Case Studies about RTech clients
More to come, keep checking back
New Orleans Baby Cakes
Baby Cakes Launches MiLB Team Store Expansion with Retail Pro Prism® POS
"We love the team at R-Tech. They're proactive and work remotely to help us get support whenever we need it, which is critical when your busiest operations are after normal business hours."
– Bob Moullette, Assistant General Manager, The Cakes Shop
Background
When the New Orleans Zephyrs rebranded for the 2017 season, becoming the New Orleans Baby Cakes, the minor league baseball team faced the challenge of not only getting the new name out but also of promoting entirely new team merchandise.
For Baby Cakes Baseball, moving from the Zephyrs' navy with grey fleur de lis to the Baby Cakes' Mardi Gras colors of green, purple and gold with the "determined baby" logo, meant the distinct possibility of many sales of jerseys, hats and other memorabilia as fans prepared to cheer on their hometown team.
Bob Moullette was brought on as Assistant General Manager to manage The Cakes Shop after nearly a decade of retail management with Abercrombie & Fitch.
With a new name and new management to launch this new in-stadium store for the Baby Cakes, the company adopted the latest software from Retail Pro, Retail Pro Prism.
Headquarters
Louisiana, Team Store/Pop-up Shop/Online Store
Products
Retail Pro Prism® POS
Improving Store Performance
The Baby Cakes team has both  a brick and mortar and online store, as well as a pop-up shop for community events, and is working toward unifying commerce on the Retail Pro Prism software platform.
On any given game night, they run three Retail Pro Prism POS stations – touchscreen, for faster transactions – and they use the Retail Pro Prism app on an iPad with a mobile payments sled, to give associates greater flexibility to help and ring up customers right from the sales floor.
"Many of the customers know what they want, but there are some that really benefit from having a sales associate make them feel more comfortable in the store and to help them find what they're looking for," Moullette said.
The Cakes Shop also benefited from powerful inventory and order management capabilities in Retail Pro.
"We use one inventory for both the store and online orders, and fulfill online orders from the store," Moullette said. "We get much higher sell-through and inventory turnover that way."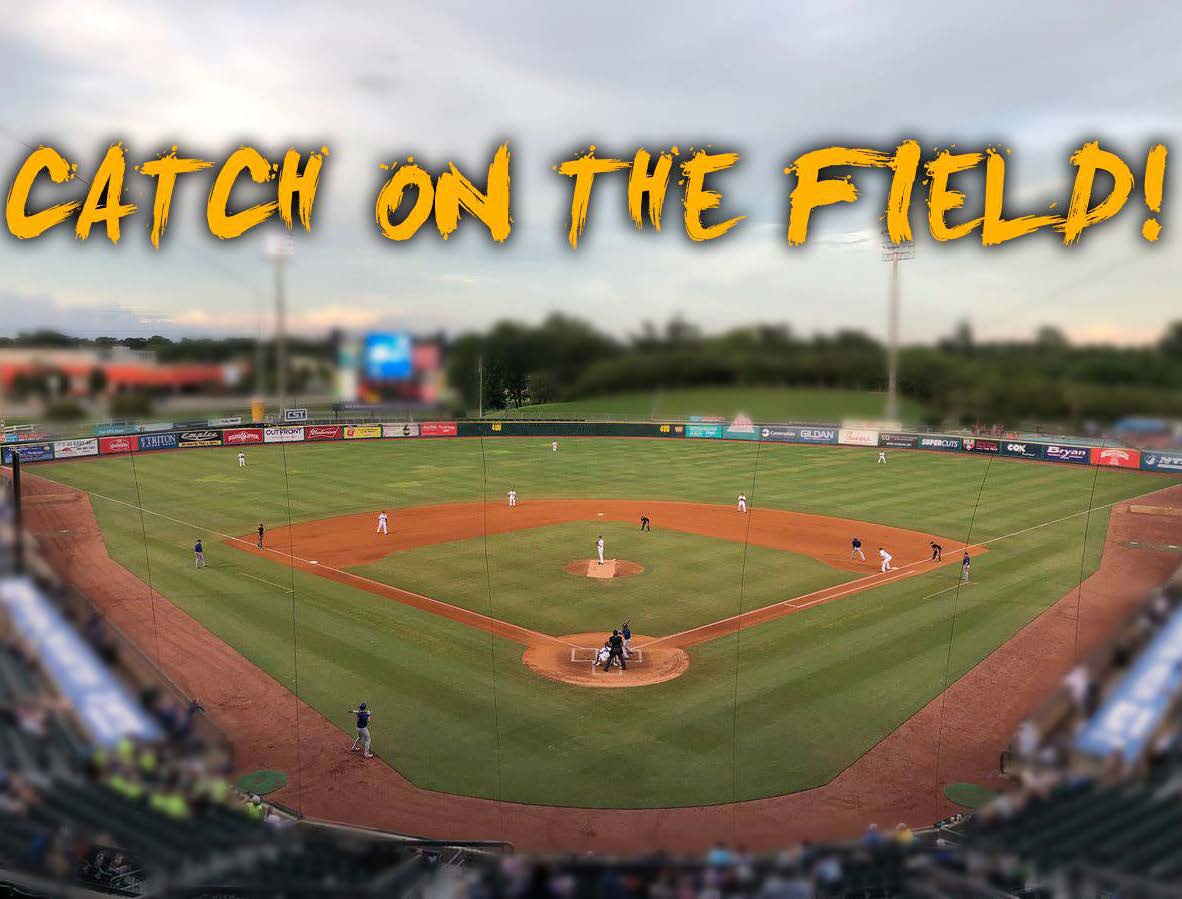 Moullette told the New Orleans Advocate last April that the team already passed its in-stadium merchandise sales from all of the previous season, and that it ranked in the top five of minor league baseball in terms of merchandise sales. Within 36 hours of their ecommerce site's unveiling, The Cakes Shop had more than 400 orders online.
Managing those sales requires software that looks at sales metrics in real-time, and those figures are used to motivate associates to reach nightly sales goals. The Cakes Shop leverages Retail Pro Prism POS to get performance data including sales by hour, margin percent, units per event, sales per cap, and many more KPIs.
Increasing ROI for Mobile POS
The mobile POS is also used at their pop-up shop and has been customized to   accommodate a particular tax scenario: the stadium is tax-exempt, but the store must charge tax when they're selling merchandise at events outside the stadium.
"We make a point to show up at Mardigras, familygras, etc. events with our team merchandise. It's a great way to be more in the local community, and you're reinforcing and building your fan base this way," said Moullette.
With Retail Pro, The Cakes Shop had the flexibility to improve efficiency by customizing a single instance of their software to meet this need, rather than running all stations with the same functionality when it was not needed.
Their Retail Pro Business Partner, R-Tech, played a major role in helping Moullette and his team get their store outfitted with the best technology.
"We love the team at R-Tech. They're proactive and work remotely to help us get support whenever we need  it, which is critical when your busiest operations are after normal business hours," Moullette commented.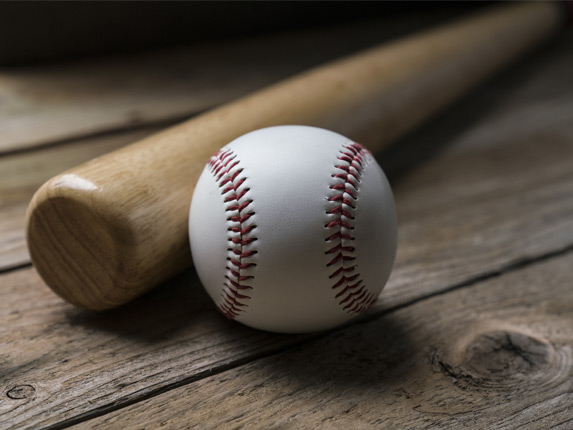 Building the Baby Cakes Experience
With so much team spirit and community involvement, the team store has an automatic audience — but it's still up to the store to keep their customers' interest.
Today's fan has many  choices  of where to buy a cap or jersey, etc.— so stadium stores must constantly evolve to meet customers' tastes and create a customer experience that provides something for that fan who has "everything."
Deep reporting in Retail Pro Prism helps The Cakes Shop target and engage with VIPs, so the team can have fun merchandise unveiling events for those loyal customers, arranged by the team's Account Executive, Maggie Schleismann.
"The Cakes Shop is a destination location and our big goal is to make it an experience fans will want to repeat. We want to give an unparalleled experience, so customers will love being in the store, getting the best quality merchandise," Moullette said. "The in-store experience drives sales, and we built ours on Retail Pro Prism."
Massey's Professional Outfitters
How Massey's Professional Outfitters adapt and thrive in an ever-changing industry
"We're confident in our ability to respond to our customers' needs with Retail Pro, to give them what they really want"
– Gerry Fullington, General Manager for Massey's
Background
Advancements in retail technology have given retailers opportunity to sell more with virtual stores, and Massey's Professional Outfitters has had the hybrid brick and mortar + e-commerce approach to retail for many years. With Retail Pro, they are able to see data for every channel in one place – which is the foundational prerequisite for omnichannel.
Headquarters
Louisiana, 7 Locations/Online Store
Products
Retail Pro, UniteU, Retail Backbone, Cayan
Industry impact: Omnichannel evolution
To the backend structures for omnichannel data visibility Massey's added omnichannel fulfillment with a vendor dropship application from Retail Backbone. Because their inventory is shared across channels, there are occasions when the physical item that's purchased online is simultaneously sold while the order was being processed. The dropship integration has automated the process such that, when the software acknowledges that the absence of the inventory upon order completion, it will send the order directly to the vendor for fulfillment, eliminating stock outs.
Gerry Fullington, the General Manager for Massey's stores, says that this connected, total view across their physical and digital channels allows them to keep lower inventory, rebalancing inventory between stores and sending direct from the vendor via dropship, rather than pulling from the warehouse. Warehouse-based replenishment for web sales accounts for only 25 – 50%, resulting in significant efficiency gains.
Ecosystem impact: going back to brick
Over the next few years, they enlarged one store, opened a new location at a Louisiana State University campus, and moved a third store to a better location with higher traffic – literally. One of their locations is about 50 feet from a popular bike trail.
The complexity of restructuring their strategy and growing their physical operations was mitigated by the ease with which Retail Pro is configurable to scale with the company. Massey's Outfitters' authorized Retail Pro Business Partner, Retail Technology Centers (R-Tech), provided their expertise and implemented the Retail Pro software at each new store. "Working with Massey's – one of our first clients – and watching them grow from a single brick and mortar store to their current thriving multi-store, omnichannel business over the past 20 years has been a joy and our privilege," said R-Tech owner, Gary Waters.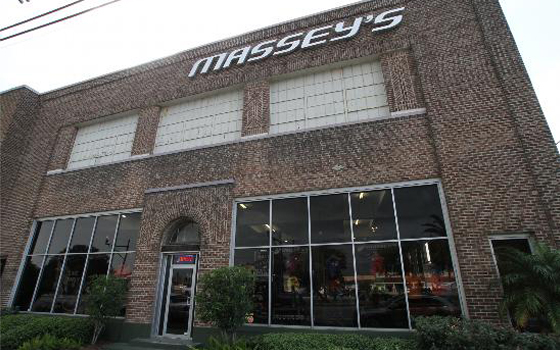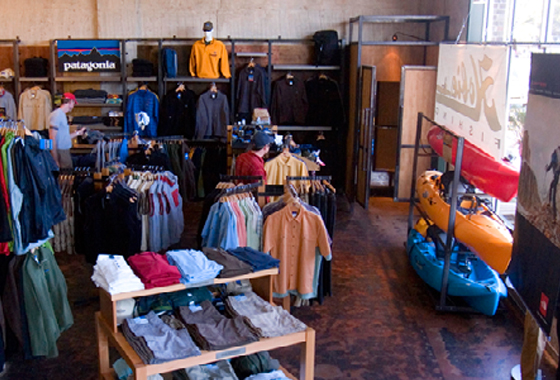 Community impact: needs-driven business decisions
Massey's structures its organization to be lean at the top, hiring many more sales associates than upper management personnel, so they can focus on the interaction that happens on the sales floor. They regularly check in with their staff to see what customers might be asking for that they don't currently carry. Their aim is to better serve the customers who regularly patron their stores, and much of their strategic product decisions have been driven by this goal.
For example, because of the shift back to brick and mortar and to deliver on customer desires for immediate fulfillment, Massey's now carries a deeper inventory, all managed through Retail Pro. In listening to their customers and analyzing what market opportunities might become available, Massey's decided to carry Yeti ice chests and Big Green Egg grills (to cater to Louisiana's famous barbeque culture).
Each new product category is easily added to their inventory inside Retail Pro, and the clear organization within the software gives them flexibility in working with the data to drive better assortments and smarter replenishment.
In addition, they are building stronger relationships with their customer base by emphasizing customer engagement. They put on events in partnership with their vendors, doing Demo Days for their kayaks and hosting movie nights where they show documentaries from Teton Gravity Research, an action sports media company. They hold locally-driven seminars on topics like how to rig your boat for kayak fishing, a sport which gains them a broader audience, since it's not just for the affluent.
"We're confident in our ability to respond to our customers' needs with Retail Pro, to give them what they really want," Fullington commented. Whereas in their e-commerce-heavy strategy, the company saw much sales growth will little change in the margin, focusing on the physical locations has increased margins and the company is earning more profit.
Retail Pro Impact: Tech innovation continues to raise the bar in retail
Massey's continues to adapt their tools and operations to better serve their customers' needs and interests. In the past 18 months, they have integrated the new Cayan Genius payment processor to the Retail Pro POS, achieving additional customer security gains and decreasing retailer liability.
Massey's has proven themselves to be an early adopter of retail technology innovations, driving productive and profitable change rather than continuously playing the catch-up game, like companies that resist retail evolution. When asked what drives their tech decisions, Fullington said, "Retail Pro conferences. We go as often as we can to see what others are doing and what new alliances Retail Pro International is building, so we can keep advancing."
Meyer The Hatter
Delivering head-turning experiences for 5 generations
"My dad, Sam Meyer, decided to put in a point of sale system for our family's hat store 20 years ago. Gary and his krewe at RTech installed Retail Pro and we have been dealing with them ever since. I enjoy using Retail Pro every day and could not run our retail business without it. Buying Retail Pro from RTech is one of the best decisions my dad ever made for our store. Thanks Dad and Gary!"
– Paul Meyer, Meyer The Hatter
Background
New Orleans-area Retail Pro customer, the 121-year old family-owned and run retailer, Meyer The Hatter, is renowned for its hat appeal. Their three-story retail shop on St. Charles Ave in downtown New Orleans has become a must-see tourist destination for its vast selection of classic hats – from Stetson Oxford pub caps to classy lady lids garnished with a single fluff of peacock feather, and many, many other hats that the Meyer family tracks in their Retail Pro.
Headquarters
Louisiana, 1 Location, Online store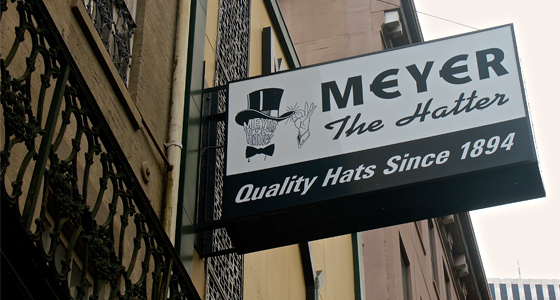 Building the brick-and-mortar experience – for over a century
The company was established in 1894 by the grandfather of today's retail legend, Sam Meyer II, who wrapped up his summer celebrating his 91st birthday. After nearly 70 years of working in his family's business, Mr. Meyer stands unopposed when he says he knows a thing or two about customer engagement.
Three generations of Meyer men and wives work under the same roof, chatting with customers and providing the stellar, personalized brick-and-mortar retail experience, with the genial touch of Southern hospitality.
"To sell hats, you have to be verbal," Mr. Meyer was quoted as saying in a Meyer The Hatter feature on nola.com. "I tell customers what I think, what looks good on them – and I ask a few questions without making it seem like an interrogation. Dealing with all kinds of people is part of the job." And dealing with them well earns a retailer their customers' loyalty.
True customer loyalty
Here, customer loyalty is real, and driven by quality. Some of Meyer The Hatter's customers have been buying the company's hats for over 40 years, and have passed on hat fever to their sons and grandsons through the bloodline.
Meyer The Hatter's clientele base is composed of dedicated locals and intrigued tourists, including celebrities who contribute to the New Orleans music culture. Eric Clapton, Elvis Costello, Tom Petty, and Jimmy Buffett are among the famous heads who don hats purchased from the Hatter.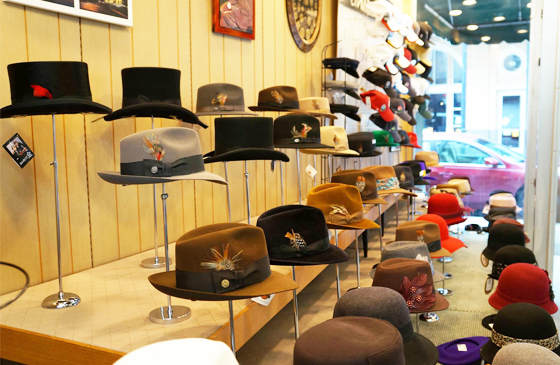 The Meyer family makes it a point to get to know their customers and genuinely engage them, tracking customer history in their Retail Pro. They draw on details like past purchases and preferred styles – stored in the customer management feature – to guide their shopper to the perfect hat for the look they're trying to channel.
Hats off to the online experience
Though the retail store was established in the days of manual POS, Meyer The Hatter is up-to-date, selling their hats across the virtual world through the UniteU eCommerce integration to Retail Pro.
The Retail Pro and UniteU integration now includes an offer for a turnkey omnichannel solution that allows retailers to establish the back-end workflows for customer-facing conveniences like Buy Online, Pickup In- Store. With complete visibility into all of your data across channels, retailers can build the next generation store – and, like Meyer The Hatter, keep retailing strong for 5 generations.
Mint Julep
A legacy brand looks for a modern approach to loyalty.
With data in Retail Pro as fuel for the AppCard engine, Mint Julep is discovering the power of reaching their shoppers with targeted and personalized campaigns.
Background
Retail Pro, the premier Retail Management solution of choice among retailers is strategically partnered with AppCard to offer Retail Pro clients with an integrated solution for advanced loyalty, personalized marketing and data analytics.
A long-time Retail Pro client, Mint Julep, is Atlanta's Lilly Pulitzer Signature Store located in the Peachtree Battle shopping center. Mint Julep houses the entire Lilly Pulitzer brand under one roof and also offers other chic resort wear lines, a must-have destination stop for ladies prior to heading out on a sun-filled vacation. The Lilly Pulitzer's lifestyle brand is thriving through these amazing signature stores, inspiring new generations to be unique, embrace a vibrant life full of color, follow our passions and have the courage to be an entrepreneurial trend setter.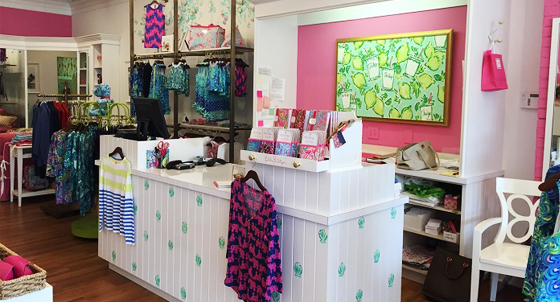 Problem:
Operationally efficient and streamlined rewards program at the POS
Looking to gain better customer insights through advanced analytics
Engage & Reward their VIP shoppers
Solution:
AppCard for Retail Pro – an integrated solution making POS transactions seamless
Over 100+ real-time reports, especially insights into their VIP shopper's behavior and lifetime value
AppCard's data-centric marketing tools to engage their top spenders with rewards and communications
Bottom Line:
With AppCard, Mint Julep can differentiate themselves from other Lilly Pulitzer points of purchase by rewarding and engaging their VIP shoppers in a personalized way.
Focus on Shopper Insights, Appreciation, and Differentiation
Although the Lilly Pulitzer legacy is strong, and in and of itself creates a good amount of brand loyalty, the owners of Mint Julep knew they needed a modern solution to address their store level challenges and aspirations.
HOW CAN MINT JULEP GAIN INSIGHTS INTO THEIR SHOPPERS' BEHAVIORS TO BOTH IMPROVE ENGAGEMENT AND IMPACT REVENUES?
HOW CAN MINT JULEP ENSURE THEIR SHOPPERS FEEL APPRECIATED AND REWARDED, ESPECIALLY THEIR VIPS?
HOW CAN MINT JULEP DIFFERENTIATE ITSELF FROM OTHER LILLY PULITZER SALES CHANNELS TO ENSURE REPEAT PURCHASE AT THEIR LOCATION?
The owners decided early on that they wanted to be able to find and implement a solution that helped them with all these goals but there was one key that was equally important. The solution needed to be operationally efficient and not have a dramatic impact on their business processes, especially at the Point of Sale.
Mint Julep consulted their decade long Retail Pro Business Partner, Retail Technology Centers (R-Tech®) for advice on how to find a technology and service partner that might be able to help them meet all of these goals.
Based on their trusted vendor's advice, they decided to take a close look at AppCard for Retail Pro. The management team was excited to see that AppCard was completely integrated into their Retail Pro Point of Sale, which was a key factor in their decision. The ability to reward and redeem in real-time through an integrated POS solution requiring minimal impact to the sales transaction was exactly what they were looking for.
"We chose AppCard because it integrates with our POS System, Retail Pro and it allows us to easily award and redeem rewards at the point of purchase"
— Elizabeth, Mint Julep Owner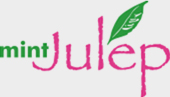 Another key requirement was to be able to have a flexible platform that could enable them to create a loyalty program that was an exclusive membership, as their top priority was to specifically reward their most loyal customers. AppCard created the "Mint Julep Loyalty Club" which was an easy to understand Cash Back program that would encourage participation, keep club members engaged, and ensure those in the Club felt appreciated for their repeat business.
Mint Julep faces many of the same challenges other brick & mortar stores face, especially when there are other channels to buy the same product on-line or in other retail stores. Even with their exceptional customer service and attention to detail, Mint Julep's owners needed a tool to help them to differentiate themselves through both rewarding their loyal shoppers and leveraging their in-store data to market in a more personalized way. AppCard was the only solution that could offer them this entire suite of services and technology.
"R-Tech® is so glad to have been a part of Mint Julep's expansion through technology by introducing and providing support for Retail Pro and now AppCard. By utilizing retail software to its fullest, Mint Julip has stayed in front of the technological advancements for optimizing retail data."
— Barbara Reeves, R-Tech®
Shoppers Embrace "The Mint Julep Club": Increase in Average Ticket Size

Now, with a click of the mouse, management can quickly see top products sold, cashier rankings, run product mix reports to better understand which products are sold together most frequently, and segment their customers based on Recency, Frequency, and Monetary Spend. In fact, AppCard delivers over 100 reports to Retail Pro merchants looking to make sense of sales data and especially shopper behaviors.
The data in Retail Pro is the fuel behind the AppCard engine and Mint Julep is just starting to uncover the power of being able to reach back out to their shoppers with targeted and personalized campaigns. Nico, Mint Julep's AppCard account manager, helps her client to decide on new ways to proactively engage Mint Julep Loyalty Club members and she even executes those marketing campaigns which can be delivered through a variety of channels: SMS, App, Automated SMS, and Email. In keeping with how Lilly Pulitzer herself would have wanted to be treated, as a unique individual, Mint Julep's shoppers are sophisticated with discerning tastes and looking for personalized treatment.
The results thus far, show compelling statistics when we analyze the AppCard vs Non-AppCard member results. In 2015, Mint Julep Loyalty Club members spent an average of 34.66% more than non-members and had an average of 29.65% more products purchased per transaction. In addition, the owners can already see that the number of loyalty shopper visits has increased with a corresponding decrease in the timeframe between those visits.
AVERAGE 34.66% MORE SPENT BY APPCARD
MEMBERS THAN NON-MEMBERS
AVERAGE 29.65% MORE PRODUCTS
PURCHASED PER TRANSACTION
Data Insights drive Personalized Campaigns
Engaging their top shoppers was of the highest priority and Mint Julep's owners are very pleased to see such a positive response from their VIP shoppers to both their 5% cash back program and AppCard enabling them to track their own rewards.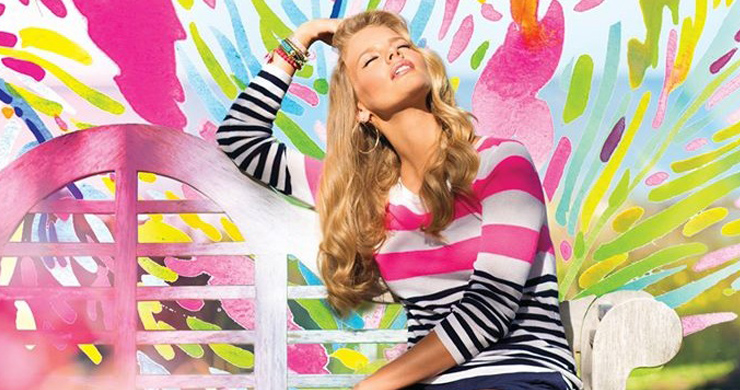 The owners of Mint Julep are most excited about the wealth of data they get through the customer reports within AppCard's cloud-based reporting suite. Because the data all converges in the Retail Pro platform, it is easy to segment their customers, see all their sales, and modify customer details and rewards, all with the goal of enhancing the customer experience and impacting profits.
The next step for Mint Julep is to make even more use of their growing database by creating more personalized campaigns, communicating at the shoppers' preferred touchpoint and using the AppCard insights to take actions that directly impact the bottom line. They have already started to communicate to Club members via SMS campaigns and are working with their AppCard Account Manager on the next wave of marketing activities.