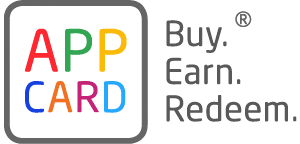 PERSONALIZED MARKETING &
SHOPPER RETENTION
AppCard combines POS transaction data with shopper identities. Artificial intelligence analyzes shopper behavior, then engages shoppers with personalized marketing offers via SMS, email, and in-app push notificati ons.

CONSOLIDATED MARKETING CHANNELS
Manage your email, SMS, and mobile marketing all in one place and use shopper transaction data to best target the right audience at the right time in the right way.

DATA COLLECTION
AppCard captures 100% of receipt information from your POS systems. With an AppCard rewards program, shoppers are identified by entering a mobile number or swiping a rewards card.

ACTIONABLE INSIGHTS
The dashboard aggregates all transaction and shopper data into actionable reports. AppCard's CRM stores individual shopper history, down to the SKUs purchased and locations visited.

POS-AGNOSTIC TECHNOLOGY
AppCard technology works with any POS through a simple plug-in. Connect your entire franchise through your POS.

ROBUST LOYALTY & REWARDS CUSTOMIZATION
Select from a robust list of loyalty program functionality or tell us what your dream program looks like and we'll build it just for you.
APPCARD'S TECHNOLOGY
AppCard's technology allows franchises to run an automated transaction-based marketing and rewards system from any POS. Simply plug into your POS, identify shoppers and track their purchases automatically.
CAPTURE 100% OF POS TRANSACTIONS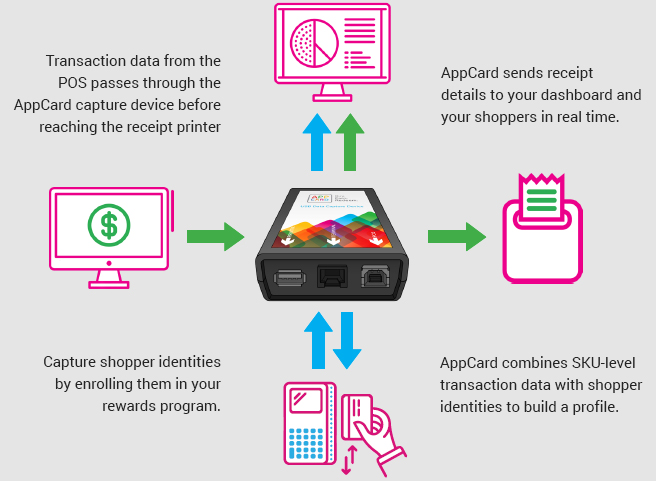 CAPTURE SHOPPER IDENTITIES
DATA COLLECTION &
FRANCHISE MANAGEMENT
REAL-TIME, CLOUD-BASED COMPUTING
Track 100% of all POS transaction and monitor the health of each individual location and your franchise as a whole.
AppCard provides over 100 different real time, transaction-based reports including payment types, product sales, shopper analysis, employee performance and more.
ACTIONABLE INSIGHTS
Shoppers identify themselves through the loyalty and rewards program using their phone number or loyalty card and each transaction is tied to their profile.
Using shopper transaction information, create or automate highly targeted marketing campaigns to increase your marketing conversion rates and franchise revenue.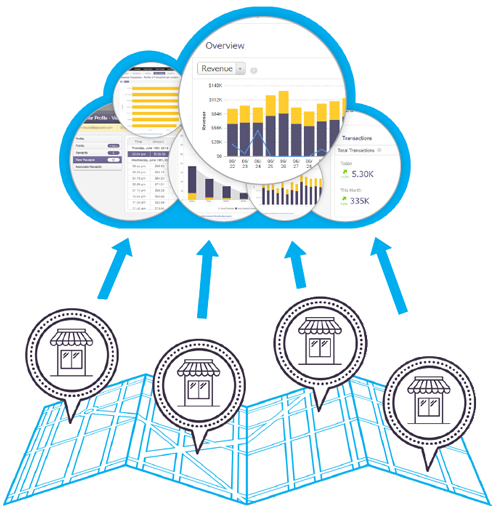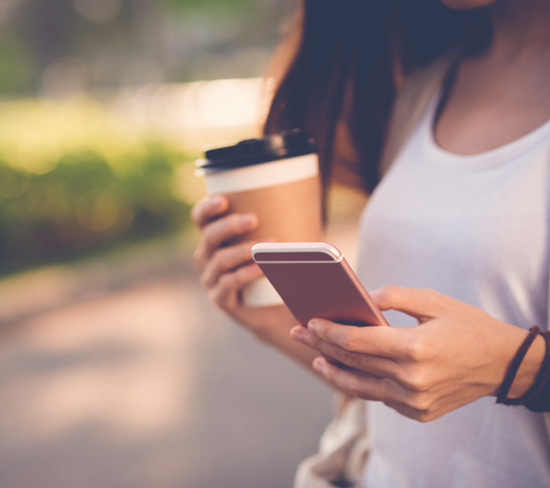 SHOPPER PROFILES
MEET JESSICA SMITH...
She shops every 3 days on average
Spent $1017 in past year
Top 12% of shoppers by spend
Her average spend is $6
1.7 items on average
Favorite item: Cappucino
RECOMMENDED PROMOTION:
RECOMMENDED ITEM: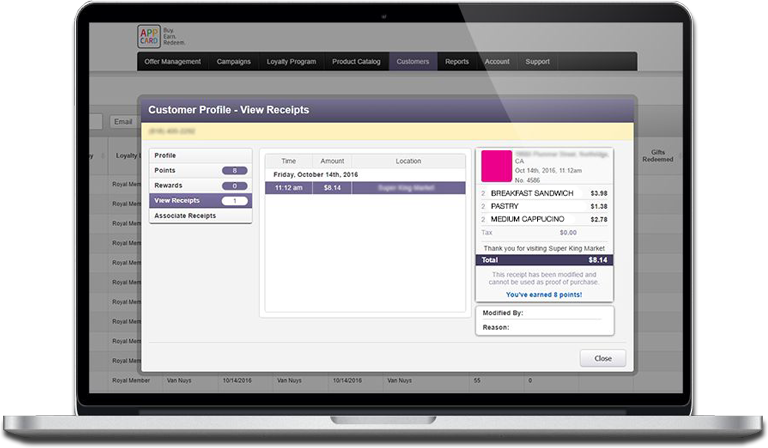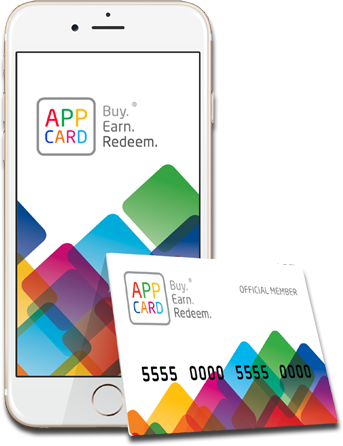 MARKETING AUTOMATION & SHOPPER COMMUNICATION
The Appcard platform allows franchise owners to customize their marketing to suit the needs of their business with machine learning algorithms, behavior triggers and do-it-yourself shopper segmentation and messaging.
MACHINE LEARNING
Use AppCard's deep machine learning algorithms to learn shopper behavior and automatically communicate with each shopper personally.
Personalized recommendations
TRIGGERS
Set up triggers to automatically communicate with shoppers based on their visits or product purchases.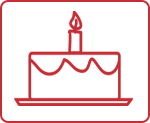 Birthday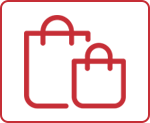 We Miss You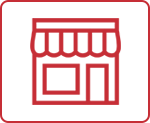 Visit Based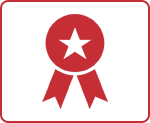 Recognition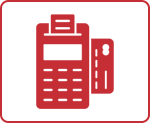 Enrollment
CUSTOM CAMPAIGNS
Do-it-yourself campaigns allow you to segment shoppers using transaction data, and send each group an email, SMS, or push notification.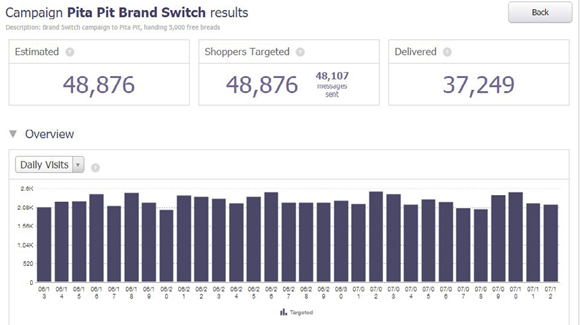 CONSOLIDATED MARKETING COMMUNICATION CHANNELS
AppCard consolidates all your shopper communication channels in one place. Allowing you to manage your SMS, email and mobile marketing efforts simultaniously. Using transaction data, create your own targeted email, SMS, and mobile communications to give your shoppers the right offers, at the right time, at the right frequency.
SMS/TEXT
Send texts to your shoppers to let them know about offers and keep them coming back time after time.
EMAIL
AppCard helps you send emails intelligently, from data-based shopper segmentation to email templates to keep you working smart and looking good.
MOBILE/PUSH NOTIFICATIONS
Send push notifications and digital receipts straight to shopper's mobile phones.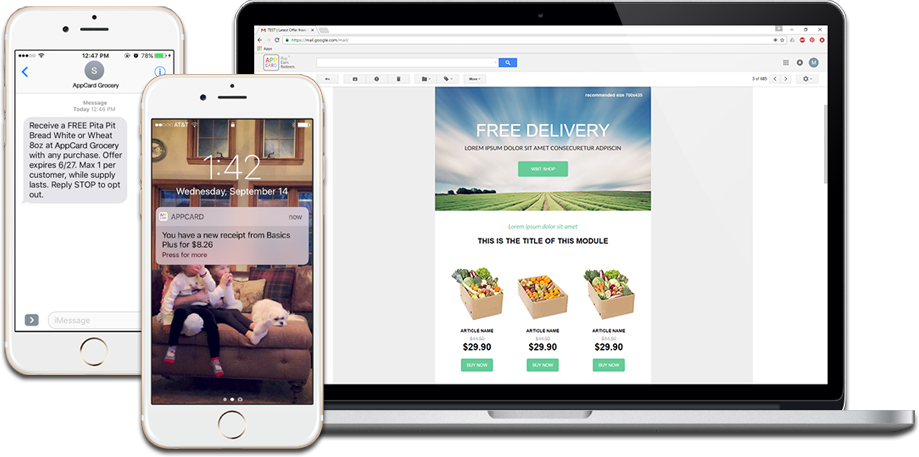 CUSTOMIZED LOYALTY & REWARDS
AppCard offers a robust selection of loyalty and rewards programs. Select the type of program that works best for your business or work with us to design a custom program just for you. You can even combine programs!
PROGRAM TYPES
AppCard also offers a wide variety of programs and we'd be happy to help you pick the one that will work best for you and your business.

Digital Punch Card
Example:
"Buy 10 Coffees, Get 1 Free!"

Points Based
Example:
"Earn 100 Points, Get $5 Off!"

Cash Incentive
Example:
"Earn 5 bonus points when you pay with cash"

Tiered Loyalty
Example:
Bronze: Earn 3% Cash Back
Silver: Earn 5% Cash Back
Gold: Earn 7% Cash Back

Cross-Merchant
Example:
"Buy a Massage at Store A, Get a Free Lotion at Store B"
COMBINED PROGRAMS
AppCard also offers combined programs to better suit your business.
Points Based
"Earn 100 Points,
Get $5 Off!"
Digital Punch Card
"Buy 10 Coffees,
Get 1 Free!"
Custom Program
100 points = $5 Off
200 points = $12 Off
300 points = $20 Off
Buy 10 Coffees, Get 1 Free
Buy 8 Dinners, Get 1 Half Off
ROI TRACKING
AppCard believes that if you spend marketing dollars, you should know exactly what you get back. That's why AppCard tracks every penny earned as a result of your marketing and rewards platform.
CAMPAIGN PERFORMANCE REPORTS
EXAMPLE: "PITA PIT BRAND SWITCH" CAMPAIGN

Shoppers targeted: 48,876

Total Revenue: $4.10M

Visits: 26.3k

Redeems: 2.91k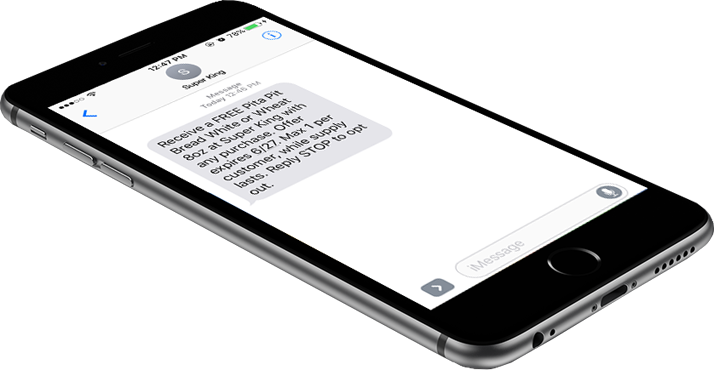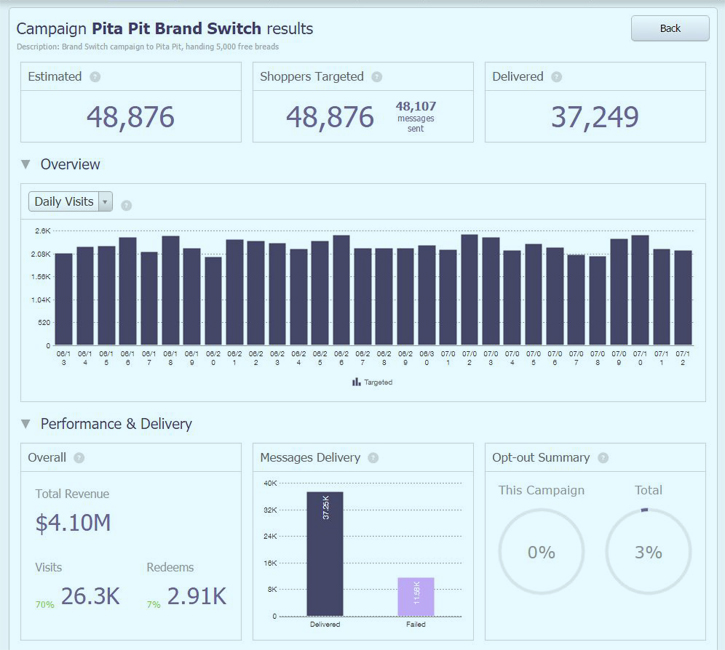 DATA-DRIVEN MARKETING PLATFORM
AppCard is a simple yet powerful Data-Driven Marketing Platform that's compatible with any POS. In 2014, AppCard developed and patented a data capture technology that sends itemized purchases for each shopper into a comprehensive shopper database. AppCard analyzes and presents shopper transaction data into a single, real-time dashboard that provides valuable business insights.
For retailers it is vital to know your shoppers' unique tastes. With various shopper demographics, thousands of inventory items, all with different colors, sizes, and price points, it can be a cumbersome task to truly know your shoppers.
AppCard has created a simple solution, backed by a talented team, to help you optimize your marketing communications, across multiple channels, to take your franchise to new heights.