A unified experience across channels & devices.
RESULTS: Retailers Evolving to Unified Commerce Are Proving the Model with Steller Growth

Of orders through the online channnel are buy online pickup in-store, delivering qualified traffic into retail locations.

Ability to enhance online catalog, doubling or tripling online SKU count by integrating vendor feeds and/or drop shipping.

Streamlining order fulfillment and data workflows, reallocating 2 full-time employees from previously laborious processes.
An expanded digital footprint for both site and marketplaces, with the ability to dynamically update products and inventory, driving consistent 2X year-over-year growth.

Of web orders fulfilled from store inventories, not only driving new transactions but accelerating inventory turns.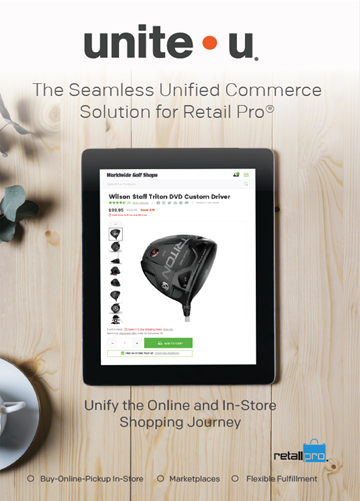 The Turn-Key Solution That Unifies the Online and In-Store Shopping Journey
UniteU® and Retail Pro's® Unified Commerce is the premier end-to-end solution for digital commerce, that seamlessly integrates with your retail business. It enables retailers to accomplish more with their real assets- building fully-featured, beautifully designed responsive sites that bridge the gap between digital and in-store – creating seamless, engaging shopping experiences.
Retailers can now offer competitive online features find in-store, and buy online pick-up in-store, then smartly and seamlessly route orders to Retail-Pro powered locations. Tear down the data walls and easily feed third-party channels such as Amazon®, eBay® and Google Shopping, fully leveraging existing retail data to power their digital business.
A solution that move businesses from siloed online and in-store shopping channels to an integrated commerce solution that seemlessly "connects-the-dots" of ecommerce and in-store POS, order management, inventory, merchandising, and financials.
Simple, robust connection with the Retail Pro platform and other data sources.
Enhance existing Retail Pro data with vendor feeds and drop shipping suppliers to enrich your online catalog.
Parse inventory and assets by store location to enable online feature such as find in-store, buy online pick-up in-store, or ship-to-store.
Enable store-specific settings, intelligently deciding which stores are able to receive pick-up orders from online store.

Gorgeous, Limitless Front-End *
optionally data services can be leveraged for large retailers with an existing site, where significant investment has been made.

Enterprise-wide View of All inventory

Powerful Tools that Unify Data Sources and Present them to Consumers.

Secure, High-Performance Cloud Hosting with Level1 PCI-DSS Compliance

Fully Leverages Cayan Unified Commerce Solution Suite

Robust, Responsive Content Delivery

Integrated Shipping+ Flexible Omnichannel Fulfillment